Entlebuch Cattle Dog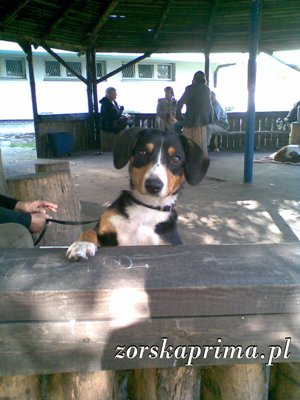 Entlebucher Sennenhund is the smallest breed of four Swiss mountain dogs (Greater Swiss Mountain Dog, Bernese Mountain Dog , Appenzeller , Entlebucher Sennenhund).
The breed has a lively personality. It is self assured and spirited, strongly attached to owners and slightly suspicious of strangers. It is known for quickness and eagerness to learn. Entlebuchers are keen on participating in various sports competitions for dogs, e.g. agility competitions, which allows the owner to spend time actively and pleasantly in the company of his dog.
The breed has an excellent sense of smell. The dogs are also vigilant and fearless guard dogs in spite of their small size.
In many countries now, this strong, small, easy-to care-for-dog with a wise face expression, has become popular, especially among people who are not interested in big dogs.
It is an attractively looking dog, nonconfrontational, with a happy and lively disposition, possessing all characteristics of a perfect city dweller companion.